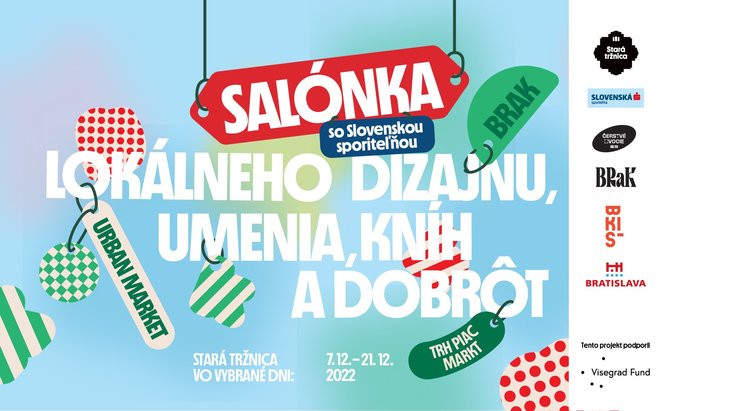 Tune into the right Christmas atmosphere!
We invite you to Salonka, a salon of local art, design, books and goodies. Under one roof, on selected days, from December 7th to December 21st, visitors will have the opportunity to buy original gifts for their loved ones, and at the same time support local brands, small and large publishing houses, artisanal food producers and artists with their purchases. During the duration of the markets, more than 300 sellers take turns in the space.
In addition to shopping, this year you will be able to enjoy a varied program for children and adults - more info soon!
Part of the Salon will also be a sales exhibition of illustrations by Slovak illustrators, which is sponsored by ASIL - Association of Illustrators.
In addition to Slovak creations, the creative scene of countries from the Vyšehrad Four region will also be presented during the Salonka. Visitors can look forward to the showrooms of the brands and authors of our closest neighbors - the organizers have joined forces with representatives of the Wamp (HU), Łodz Design Festival (PL) and Zlín Design Week (CZ) festivals, who will bring the best of contemporary creation in their region.
Our partner, Slovenská sporiteľňa, brings the innovative GoodPay service, thanks to which every visitor can not only conveniently pay contactless, but also help homeless people. For every contactless payment, Slovenská sporiteľňa donates 10 cents to the integration center OZ Stopa Slovensko. The final donation will be later matched by the Slovenská sporiteľna Foundation up to 5 000 euros.
DATES:
on selected days from December 7th to December 21st
First round: 7.-9.12.(Wednesday | Thursday | Friday) - 2€
Second round: 11.-13.12. (Sunday I Monday I Tuesday) - 2€
Third round: 14.-16.12. (Wednesday | Thursday | Friday) - 2€
Fourth round: 18.-21.12. (Sunday I Monday I Tuesday I Wednesday) - 2€
Every day from 14:00 to 20:00 and on Sundays from 10:00 to 18:00.
ENTRANCE
€2
(children under 18 and seniors over 60 free entrance)
LIST OF VENDORS
The list of vendors will change during the duration of the market. The current list will be regularly updated on the social medias of individual organizers and also in event.