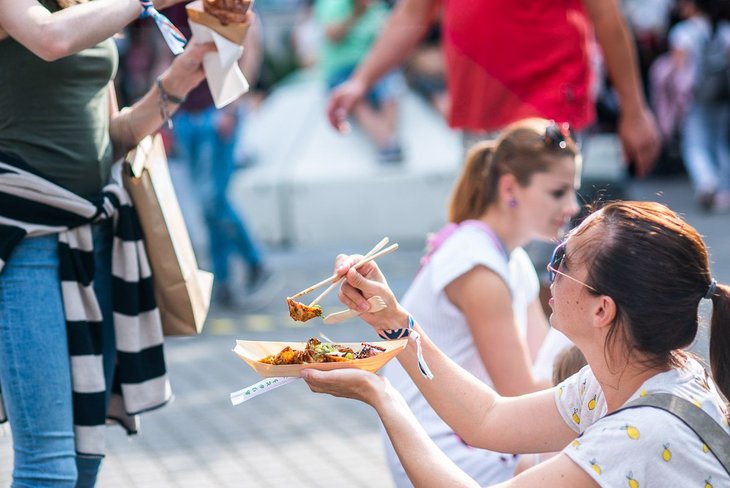 Street Food Park is back! We happily invite you to once again enjoy tasty food and drinks in a friendly atmosphere in front of the Old Market Hall.

OPENING HOURS
19. - 22. August 2020
Wednesday: 12:00 pm - 10:00 pm
Thursday: 12:00 pm - 10:00 pm
Friday: 12:00 pm - 10:00 pm
Saturday: 12:00 pm - 10:00 pm

ZERO WASTE
Cutlery and glasses used at Street Food Park are all compostable. Please, dispose your waste at our recycling stations, where we will inform you how to separate your waste correctly. Thank you!

SAFETY & HYGIENE
Stricter hygienic measures will apply at Street Food Park due to the COVID-19 pandemic. Please, follow the instructions of the organizing service, and if you do not feel completely fit, you should rather visit the Street Food Park at another time. Before you enjoy tasty food and drinks, please, take a look at the following recommendations:
🧼Don't be afraid to use hand disinfection - even repeatedly.
🧼Keep a reasonable distance from each other.
🧼Wearing a face mask when you're not consuming food and drinks protects you and others around you.
🧼Use contactless payments! Thanks to Slovenská sporiteľňa, your payments can be contactless in all stalls at Street Food Park. You can also pay with your smartphone or smartwatch.
We thank you for being considerate and wish you a pleasant time spent at the Street Food Park.

ACCOMPANYING PROGRAM
On Saturday, 22. August, the regular food market will take place in the Old Market Hall from 09:00 am untill 03:00 pm.