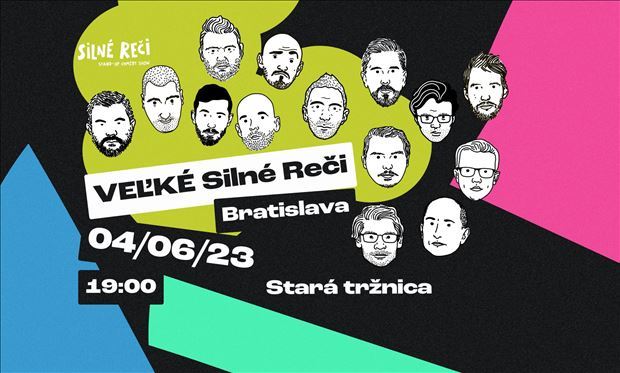 You can buy tickets at 👉🏻 https://listky.silnereci.sk/e-13750/silne-reci-v-starej-trznici

Silné Reči ends the season in spectacular style - in Stará Tržnica. You can experience the show of the best that was born in the last year in these comic heads already on Sunday, June 4, in Bratislava's Stara Tržnica.
You won't experience a bigger load of humor - and if you're particularly demanding, treat yourself to a VIP ticket with a great view and your own refreshments. An ideal gift. Just like that, on a side note.
Speakers: Jano Gordulič, Matej Adámy, Milan "Docent" Sedliak, Jakub Gulík, Martin Hatala, Tomáš Hudák, Jakub Lužina, Marián Psár, Dano Čistý, Michael Szatmary, Joe Trendy, Jakub "Zitron" Ťapák, Šimon Ferstl, Ivan Kostra and Yuri.
ATTENTION: Entry to the show is only from 15 years old. Program change reserved.