TAPE by NUMEN/FOR USE
After the successful installation of TUBE by the Austrian-Croatian group NUMEN/FOR USE, together with our partners - Slovenská sporiteľňa, Festival Biela noc, Hlavné mesto Bratislava, BKIS and BSK - we decided to devote the whole summer to art again. The result is a fascinating spatial installation TAPE, which will be presented this year in Stara Tržnica.
TAPE is a natural continuation of the TUBE project, which we were able to experience in Stara Tržnica in 2021. This impressive spatial installation again works with the monumentality of historical architecture and brings visitors a new perspective, context and experience of the well-known space of Stara Tržnica.
According to Zuzana Pacáková, who is behind the curator of the installation and the Biela noc festival, TAPE also responds to the unconscious desire for soothing, ethereal zones, and explores the physical and psychological meanings of inner space. It represents a kind of cocoon, a safe place of contemplation where you can withdraw and isolate yourself from the outside world. Visitors have the unique opportunity to enter a fragile and temporary landscape and then explore and travel through a tangle of elastic, slightly pulsating membranes and tunnels suspended in the precariousness of the iconic architecture's vacuum.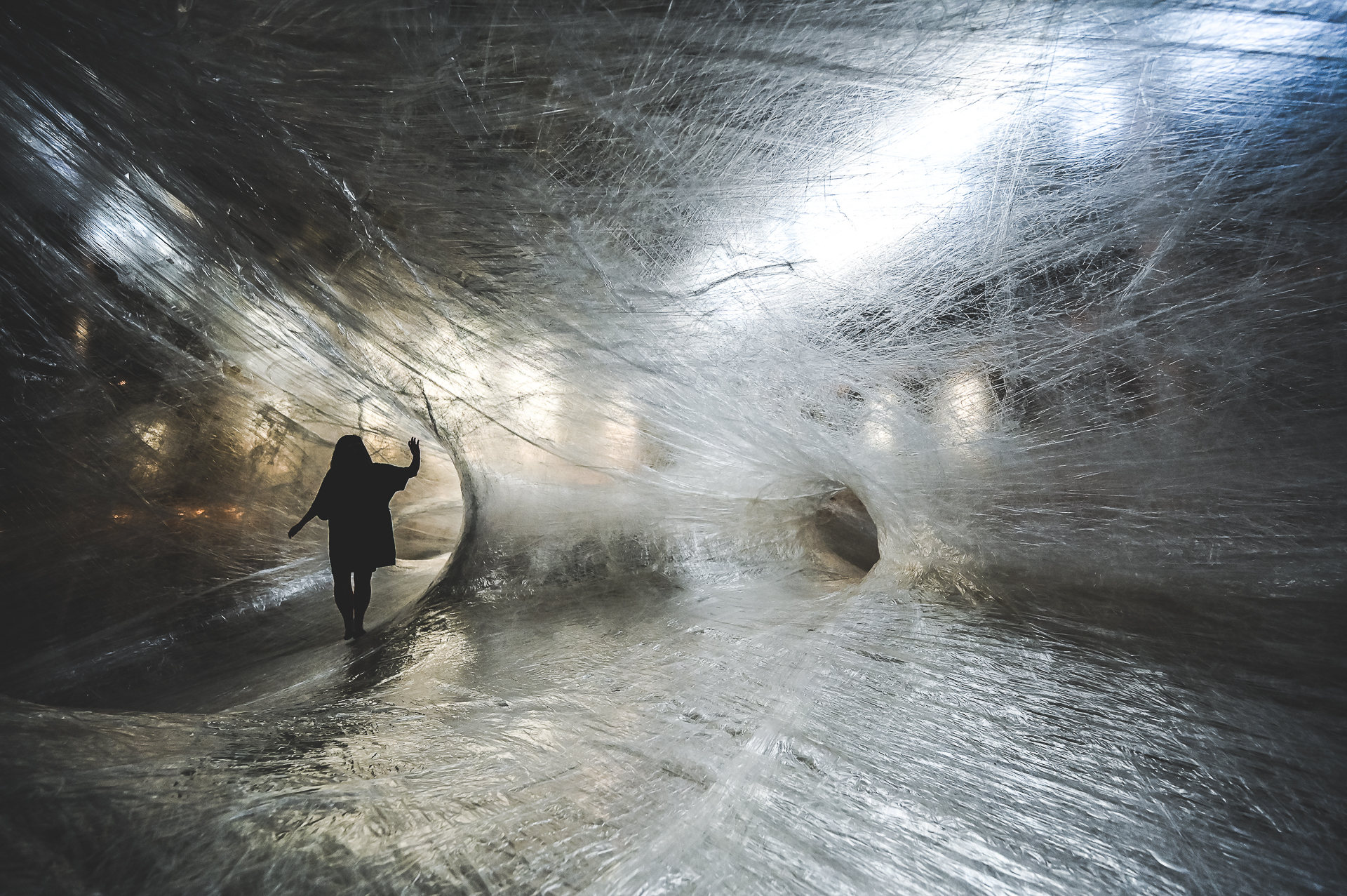 The installation resembles a floating transparent architecture, with a reference to the urban utopias of the 1960s and 1970s. Biomorphic skin is a playground for the senses. It offers the possibility of climbing, relaxing and exploring. The elastic membrane reacts to the internal movements of visitors like a living organism, while maintaining its shape and character of a closed bubble. It evokes a transparent web or an icy landscape. However, visitors - observers, who can examine the complexity of the temporary structure as well as the movements of its active guests from below, will also have an interesting view.
The TAPE installation will be open to the public throughout the summer, so don't hesitate to come and see this fascinating art installation in the historic Market Hall. Entry is free and open to all ages. Come and be a part of this unique artistic experience!
Entrance fee:
Free entry until capacity is filled.
No reservation/advance sale required.
Opening hours: 30. 6. - 1. 9. 2023
Sunday - Friday: 13:00 - 21:00
Saturday: 09:00 - 15:00 18:00 - 21:00
Exhibition Tape is not a single-use plastic. For the creation of this large-scale work of art, which fills the entire hall of the Old Market, we used only 250 kg of polypropylene tape made from already recycled material. The Tape exhibition will last for 2 months and will be visited by approximately 30,000 people. Of course, this material does not end up in the trash. We will use it again during the Christmas market.